Synopsis

Apartments for rent

Asthma allergy health

Arguineguin

Grand Canary

The Canary Islands

Flight- and rent prices

Apartment in Spain

Contact

Norway seems to have the world's highest figures for asthma, allergies, diabetes, ostheoporosis, chronic intestine inflammation, psoriasis, light-dependent depressions and some growing types of cancer. The occurence of diffuse illnesses such as headaches, muscular aches, fatigue, difficulties in concentrating and sleeping is high as well, but there are no comparable statistics in these areas. These health problems follow western lifestyle: It is likely that the causes are one or more environmental factors, that indoor environment is more important than outdoor pollution, but the government leaves the pharmaceutical industry to sell medicine before finding the cause of modern health problems.

Many people experience great improvement from these health problems on the Canary Islands. About 70-80% notice improvement, especially from asthma, allergies, rheumatism, fatigue, winter depressions and psoriasis. The best climate on the Canary Islands is on the south coast of Grand Canary from Arguineguin via Puerto Rico to Puerto Mogan. Those who move from Norway because of health problems, often choose this area because of its unique climate. The improvement in cases of asthma, allergies and rheumatism seem to be less on the mainland of Spain. It is uncertain whether this is due only to the climate, or if the Canary Islands' less developed western lifestyle is an accomplice cause.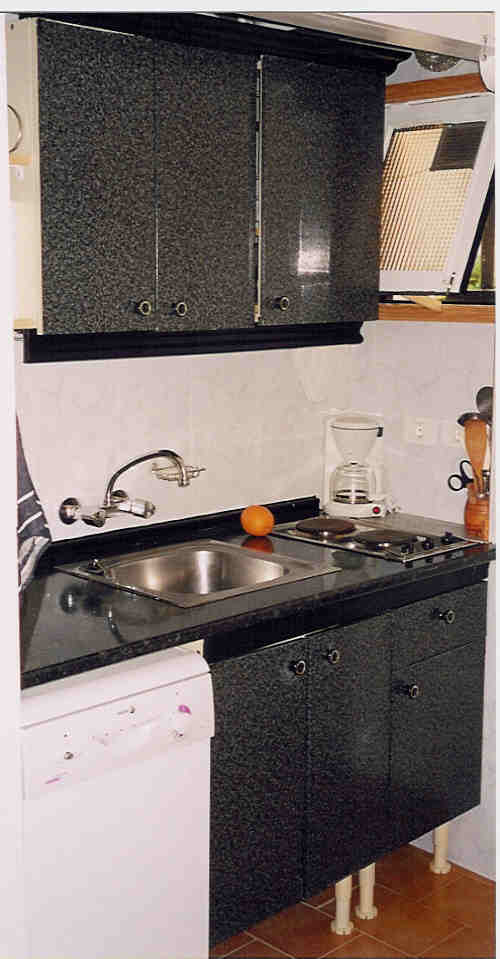 From the kitchen in the test apartment for asthma, allergy and environment related health problems.
Even though many experience improvement during a package holiday on the Canary Islands, some people also notice the oposite. You can, for example, have bad luck and end up in a room with damages by damp, mould fungus and dirty wall-to-wall carpets. Noise from disco's may ruin your sleep. Some rooms stink of smoke. In the bigger streets outside the hotels, you often find high-voltage power lines. More and more electrical equipment is placed so that the hotels' bedrooms are exposed to the field surround electric equipment. Synthetic building materials and chemicals are increasingly overtaking the Canary Islands' traditionally simple, low technology stone houses.

With our apartment you avoid this uncertainty and get an optimal environment. You get to experience for yourself what the enironment means for your health problems. In cases of asthma, allergy, fatigue, depressions, problems sleeping and diffuse problems, two weeks is often enough to improve your health and energy level. In cases of rheumatism and psoriasis, 3-4 weeks is recommended. Longer recreational stays with change of diet and physical activity level in cases of f.ex. diabetes and cardiac infarction, are available during the summer months.

Everyone who experience tiredness at home, but are healthy when away, will benefit from trying out the apartment for a couple of weeks. After returning, we will be able to survey the environmental factors in your home and suggest actions to make the indoor environment as good as possible. Your workplace may also be surveyed. Unfortunately, we can only offer these tests in the the Oslo region. You will recieve a 10 page long environmental condition report, in addition to suggestions for action. The surveys are carried out by personnel with university education and is not connected with product sales. The prices are adjusted to private individuals economy. See SykAvHuset.no for more information about what the surveys involve. Here you will also find more about health and the causes of stress- and lifestyle related diseases.