Synopsis

Apartment for rent

Asthma allergy health

Arguineguin

Grand Canary

The Canary Islands

Flight- and rental prices

Apartment in Spain

Contact us

Our apartment is rented on a weekly basis, usually from 1-3 weeks. Longer stays are available during spring and summer, except in school holidays. The prices follow the season, like the package holidays'. Several low-fare airlines and "flight-only package holidays" fly to Grand Canary. Flight prices vary a lot depending on season and how late or early you book.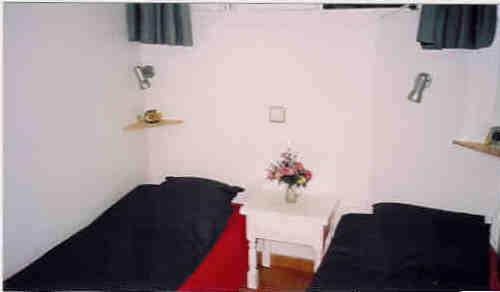 The apartment's bedroom with two sepate beds that can be put togteher to a double bed. A small corridor makes it possible to reach the bathroom uninterrupted from both the bedroom and livingroom.
Our intention is that low-fare airline tickets plus rent shall be approximately the same as the price on a package holiday with the same type of standard when two people are travelling together. One week rent in the winter season is normally EUR 475. In the summer, except school holidays, it is EUR 380. An additional deposit of EUR 250 is returned after the stay.

Transfer to and from the airport is easy with, for example, bus or taxi. The Scandinavian run service office we cooperate with in Arguineguin can arrange meeting at the airport, help with your luggage and transport to the door, if desired.

Please contact us on phone nr +47 22 68 28 62, including week-ends and evenings, for more information, exact prices, what weeks are available and possible booking. Due to the flight connections we have chosen Wednesday as our standard arrival day. We reserve the apartment while you look for available flights.