Synopsis

Apartment for rent

Asthma allergy health

Arguineguin

Grand Canary

The Canary Islands

Flight- and rental prices

Apartment in Spain

Contact us

Grand Canary is by many seen as the most diverse and exiting of the Canary Islands. Here you can find everything from sunny beaches to modern cityife, high mountains, breathtaking nature and idyllic villages far away from tourism. The island is a continent in miniature, with different climate zones. I the south, the climate is characterised by sun and summer all year round. Many Europeans discover that their asthma, allergy, rheumatisme or other health problems improve so much that they have bought houses or apartments here.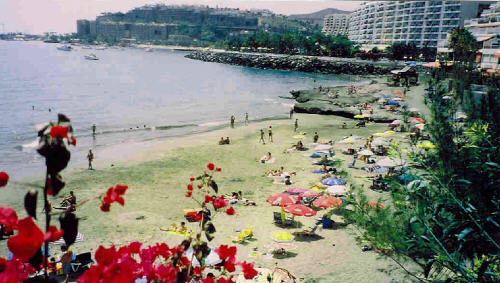 One of the two nice little beaches below the apartment on Arguineguin on Grand Canary.
You also find citylife in the Canary Islands' capital Las Palmas, situated in the north of Grand Canary. Here you can find the long city beach of Las Canteras, but also industry, trade, culture and big shopping centres. Playa del Ingles and Puerto Rico are the most developed tourist destinations on the island. Here beach life, discos and partying are the key activities. San Agustin with a lot of Swedish tourists and Maspalomas with many Germans lie on each side of Playa del Ingles. Bahia Feliz outside San Agustin has several hotels with Scandinavian guests.

If you are looking for a quiet and relaxing holiday with a lot of sun, we recommend Arguineguin or Puerto Mogan. Both villages are cituated on the sunny south side of the island. Puerto Mogan with its small craft harbour, flowers and good restaurants is probably the most idyllic place on the Canary Islands. We have chosen Arguineguin for our rental apartment because the village is bigger. There is more to do here if you are staying for more than one week. The prices are also lower.

By renting a car or using the well developed bus system it is easy to get around the island. You will see high volcanic mountains where it sometimes snows, forests and Canarian villages that stand in great contrast to tourist machines like for example Puerto Rico. The people are friendly, but often don't speak English.

In Europe, Grand Canary is marketed mainly as tourist destination in the winter. Those who know the island know that it also is a good alternative to capricious Nort-European summers. A mild breeze from the Atlantic Ocean makes sure you avoid the stifling heat that characteises the Mediterranean countries in the summer. The last few years' great price increasing in Greece now makes the Canary Islands a relatively cheap holiday destination.

The prices on food in shops and restaurants are about 50% lower than in major North-European cities. Over all, Spain has the lowest food prices in the EU. It has become very attractive to live here, and the real estate prices are at the same level as in Oslo. Labour for f.ex. cleaning, gardening, crafts etc. is fairly cheap. Grand Canary is the island with the best flight connections via low fare airlines and charter flights all year round.