Synopsis

Apartment for rent

Asthma allergy health

Arguineguin

Grand Canary

The Canary Islands

Flight- and rental prices

Apartment in Spain

Contact us

We have 25 years of experience in surveying the environment factors surrounding people with health problems in Norway. Both the University of Oslo and the Norwegian Academy of Natural Medicine have invited us to lecture in environment factors and why Norway has such a high occurence of asthma, allergies, fatigue, sleeping problems, diabetes, ostheoporosis, rheumatism, psoriasis, muscular pains and diffuse diseases that follow the western way of life. In our rental apartment in Arguineguin in Spain, we have eliminated the factors we think cause these problems.

Contact us via e-mail m@lande.co if you wish to discover what a couple of holiday weeks in our healthy apartment can do to your health and energy levels. Alternatively, call +47 22 68 28 62, including evenings and week-ends. Leave a message if we are unable to answer, and we will return your call.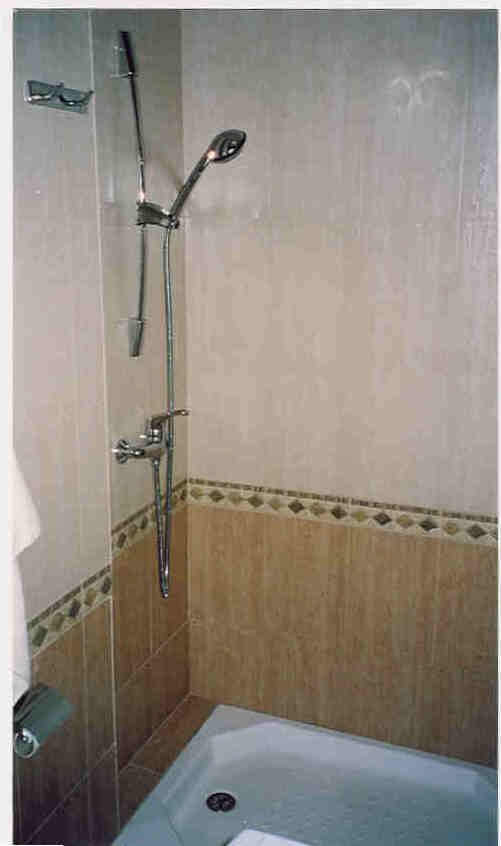 From the bathroom in the apartment that was totally renovated with tiles on all surfaces, including ceiling, in the autumn of 2004. Mold is a common problem in Spannish bathrooms.
A payment of at least EUR 300 is paid immediately when booking. The outstanding, including a deposit of EUR 250 is paid at least one month prior to departure. The deposit will be refunded once the holiday is over and the keys have been returned. We will of course keep the apartment reserved for you while you check prices and book your flight to Gran Canaria.

Cleaning of the apartment, bedding and towels are included. Due to only a short time gap between your departure and the next arrival, we kindly ask you to tidy the apartment and put all washing-up in the dishwasher before you leave. The lower age limit for renting the apartment is 25 years. The apartment is non-smoking. All photos in this website are from the apartment or the surrounding area.