Synopsis

Apartment for rent

Asthma allergy health

Arguineguin

Grand Canary

The Canary Islands

Flight- and rent prices

Apartment in Spain

Contact us

What can an optimal indoor environment do to your health problems? Combine the pleasant with the useful. Try our healthy apartment in Arguineguin on the Canary Islands as an alternativ to a random package holiday. Many people suffering from asthma, allergies, rheumatism, depression, fatigue, myalgia, psoriasis etc. notice improvement after only a short time on the Canary Islands. If you rent our apartment, you are ensured against smoke stench, wall-to-wall carpets, damp damaged bathrooms with mould fungus, water paint releasing toxic fumes, high-voltage power lines or cables, and loud noise from bars and discos.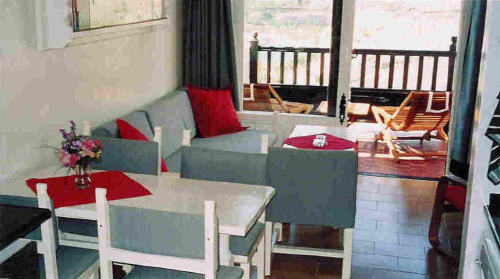 From inside the apartment for rent in Patalavaca. It also contains a bedroom, a small kitchen, a newly refurbished bathroom and a balcony.
We have chosen an old, healthy stone house as our starting point. The bathroom has been completely renovated with tiles on all surfaces, including the ceiling. Plastic and synthetic materials have ben kept at a minimum. The apartment is suitable for 2 people. It contains a bathroom, a bedroom, a livingroom with a kitchen and a balcony with a beautiful view over the sea and the sunset.

The apartment lies in a fenced area with a shared swimmingpool and children's pool. Grocery stores and sandy beaches are within a short distance. For the acquainted with the locality,the flat lies in Terrazza Canaria, Canarios III, in Patalavaca. Patalavaca has grown together with Arguineguin. Everything is within walking distance. We cooperate with a high quality Scandinavian run local service office who will help you with any potential problems.

The area is relatively steep, has staircases and is unfortunately less suitable for motorhandicapped people. A few hundred metres from the apartment there is a road with local traffic that gives some noise, equivalent to most inhabited places near the sea on The Canary Islands. There is, at times, a lot of sand dust on the Canary Islands. The area is planted with flowers, and allergic reactions can not be precluded. Health services on Grand Canary are good. Flights, transport to and from the airport, cleaning, car rental etc. is easily arranged.