Synopsis

Apartment for rent

Asthma allergy health

Arguineguin

Grand Canary

The Canary Islands

Flight- and rent prices

Apartment in Spain

Contact us

Arguineguin on the Canary Islands offers sun, summer and vacation in a quiet fishing village. Thousands of Europeans have chosen apartments as their second home. Many experience that their health and energy improve after only a short while. The surrondings are international, and you live side by side with the Canarian locals. Here you have everything you need for a successful holiday, without the stress we find in the numerous tourist machines on the islands. Small sand beaches and a few cosy beach bars with good food gives you a nice vacation in the sunniest area in Europe.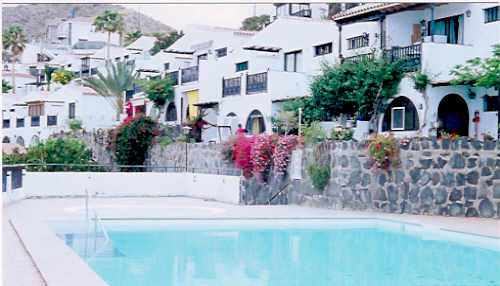 Discover what a few weeks of vacation in a healthy apartment in Arguineguin can do to your health and energy levels. Our apartment to let is situated in the centre of the photo with a nice view over the swimming pool, the sea and the sunset.
Together with San Diego in the United States, the south of Grand Canary probably has the best climate in the world. The sunny and warm climate is stable all year round. In the summer, you get away from the steaming heat that may put a limitation on a vacation in Spain, Greece or Turkey. Discover what a few weeks in Arguineguin does to your health and level of energy.

After 15 years of surveying what causes environmentally related health problems in Norway, we now offer weekly rent of a healthy and attractive apartment as an alternative to a package holiday. The apartment is shaped from our experience with health and environmental impacts such as building materials, toxic fumes, radon, high-voltage power lines, damages by damp, mould fungus, bacteria, noise, dust, etc. See SykAvHuset.no for more information about our indoor environment surveys in Norway. The apartment is, in difference to all hotels in the Canary Islands, non-smoking.